Yoo-hoo!
to get your guide in Helsinki
Explore Helsinki with a local and authorized guide
With Yoo-hoo! Tours you will explore Helsinki with a native, Helsinki- born, authorized Helsinki guide. This gives you truly an insider's view to the city and its fascinating places and stories. The service always is personal and in a small group you will have plenty of time for questions and discussion, too.
With an authorized guide your tour will always be informative but with an easygoing way. Our aim is to make you happy and relaxed on our tour, as it is an important part of your vacation.
Yoo-hoo! Tours wants to protect our environment also for the future visitors and locals. Most of our tours are done by walking, biking or using the public transportation. If vans, cars or buses are used, we pay attention to their environmental friendliness. Our partners are all local companies.​
Welcome to explore Helsinki with a local, authorized Helsinki Guide
Yoo-hoo! Tours organizes different tours in and around Helsinki area. We are specialized for sustainable
walking and biking tours for small groups. Whether you visit Helsinki by yourself, with your loved one or
even in a bigger group, we can tailor you an individual tour. This provides you personalized service,
recommendations and lets you and your group to explore the city just as you want. We also welcome LGBTQ travellers to our tours! 
The compact size, good pedestrian and bicycle infrastructure and reliable and affordable public
transportation give many options to tailor your tours according to your needs. Walking is the best way to
see the downtown major sights when biking and public transportation by tram or underground take you
further away to Helsinki's different neighbourhoods and surrounding cities of the Metropolitan area. On the
summer time the closely located islands with interesting history and opportunities for food and drinks are
perfect getaway from the city. All this can be arranged by Yoo-hoo! Tours.
We also have some scheduled tours for the general public to participate. Please see more info about them
on the our Scheduled Tours page!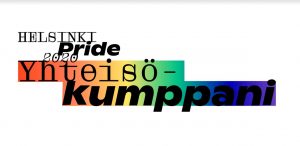 Due to corona pandemic the Pride week in Helsinki was postponed from June to September and will be during 7-13.9.2020. There will still be lot of activities
Lue lisää ->
Yoo-hoo! Tours participates already traditional Helsinki walking festival – a happening with different guided walking tours around Helsinki. This fall the festival is bigger than ever with
Lue lisää ->
Are you ready for a tour?
Founder and a YooHoo! Guide